Cooking
How to make a super tasty stir fry in half an hour to delight your friends, family and significant other.
Old Article
This content may be out of date or broken, please take care.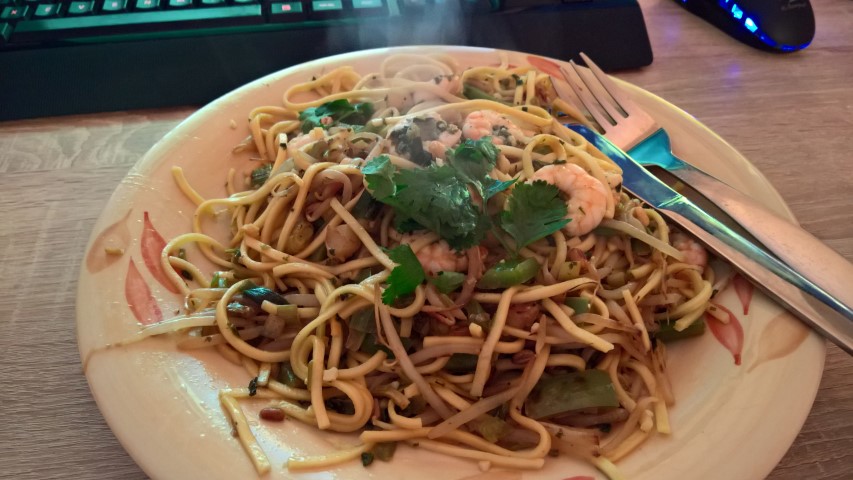 Here is something a little different for me to write about. This is one of my favourite dishes, it is super tasty and really easy to make. The ingredients aren't strict they are just rough estimates from what I get.
Prep time: 20mins | Cooking time: 10mins | Serves: 2
Ingredients
175g Raw King Prawns
2 Limes
Bunch of fresh Coriander (separate stalks and leaves)
3 cloves of Garlic
1 Chilli (pick to taste, I go with mild ones)
1 Red Bell Pepper
20g (about 3cm) Ginger
100g spring Onions
100g Beansprouts
300g Egg Noodles/Rice Noodles
3tbps Groundnut Oil
Pepper
Salt
1tbsp Sugar
Soy Sauce
Prep
Marinade
If you want to make this super tasty, marinate the prawns overnight.
Finely chop coriander stalks and chilli, crush two cloves of garlic, and add to bowl or pestle.
Mix above together and add juice of one lime and add sugar.
Coat the prawns in this marinade and set to one side.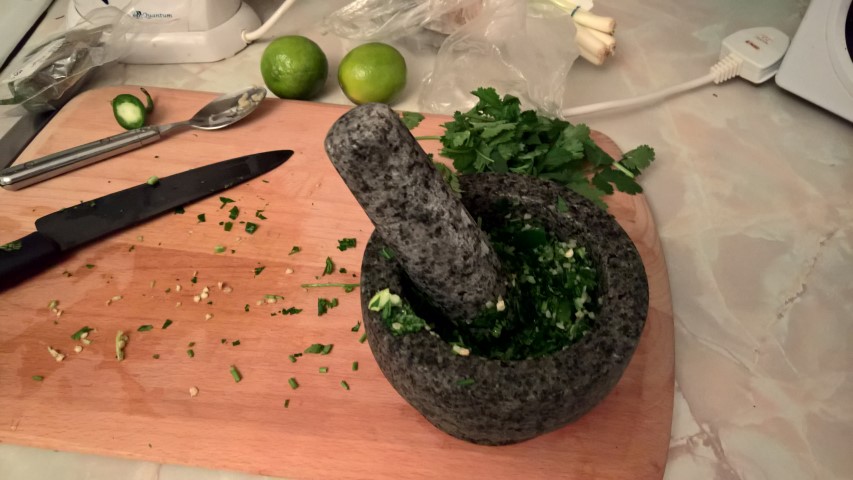 Making the chilli garlic and coriander marinade.
Remaining Prep
When ready to get cooking, finely chop pepper, ginger and spring onions.
Cook
This is quite a fast process, so make sure to have everything to hand. You should be liken to an Octopus for the next steps.
Heat up a wok or large pan on a high heat and add oil.
Chuck in your Spring Onions and Ginger, cook for 1 min.
Add your bell pepper and cook until it softens (about a min).
Throw in Beansprouts until they wilt (just over a min).
Add a decent amount of black pepper and soy sauce, stir in then set aside the contents on a plate.
It's prawn time. Lift them out of the marinade (leave the juices) and wack them into the still hot pan and cook for 1-2 mins until they turn pink.
At this point you want to chuck in your egg noodles, follow this up by adding the marinade. You want to keep things moving at this point so your noodles don't burn. Cook for about 2-3 mins until the noodles 'look right'.
Add the veg you set aside back to the pan, mix it all together then plate up.
Garnish with a good pinch of lightly chopped coriander leaves, and lime juice from your remaining lime.
Stand back and admire your pro cooking skills.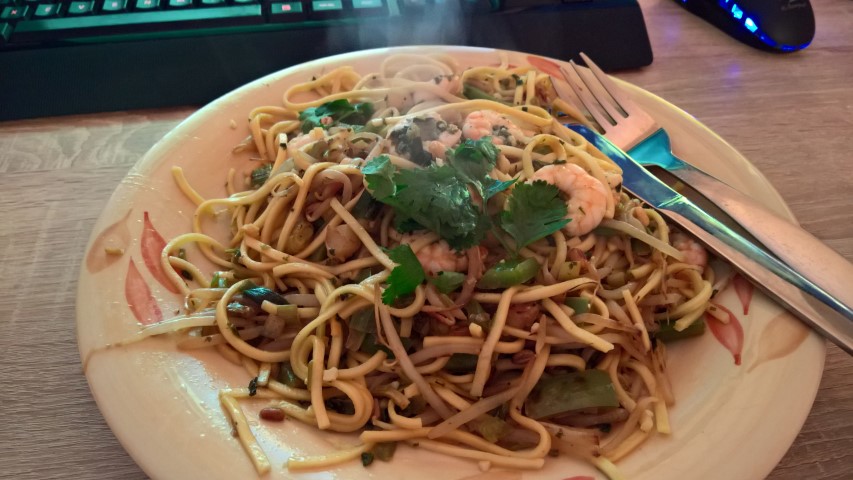 Credit: I think this was the original recipe. I've modified it a little so you cook your noodles too, and you can actually find the ingredients at Tesco's (I was a student at this recipes' conception).